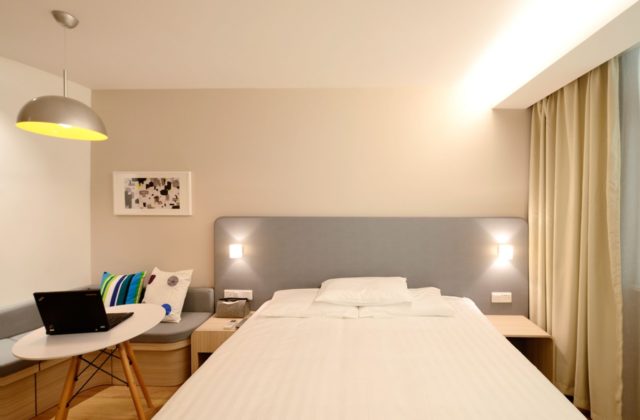 Oyo Rooms is a web based platform that allows you to books standardized hotel rooms across different cities in India.
Oyo has tie-ups with various hotels across the country to offer customers standardized hotel packages that include AC rooms with free WiFi and Breakfast. Oyo ensures a standardised product offering to its customers by including only those properties (hotels, homes etc) within its network that meet its pre-defined standards of quality.
Oyo rooms has no inventory of its own – which means that it does not own any of the hotels that customers book through its platform. It merely provides the interface for users to search for and book hotels which are part of its network.
Quite recently Oyo has also expanded its product offerings by allowing users to book Banquet Halls and Travel Packages through its platform.
Oyo Journey
Founded by Ritesh Agarwal, Oyo started its journey with just one network property in 2013 and now claims to have presence in over 230 cities across India.
How Does Oyo Rooms Make Money?
Oyo makes money by charging property owners a commission based on the tariff of the rooms booked through the OYO platform.
Oyo calls this the Net Take Rate and according to this blog post, this generally ranges between 15 to 20 % of the room tarrif. This Take Rate can however be higher or lower depending upon a number of factors which include the location and popularity of the hotel among others.
Hotels benefit from this tie-up because being listed on the Oyo platform gives them more exposure (Oyo being an established brand) and helps their top line by bringing in more business.
Also with the acquisition of Roads Less Travelled, OYO has also offering Holiday Packages through its platform – from which it is also expected to generate revenue. Oyo has also recently expanded its presence into the Malaysian Market.
Hope you liked our presentation on the revenue model of Oyo Rooms. Post your comments below and keep visiting Finmint for more such stories and insights.